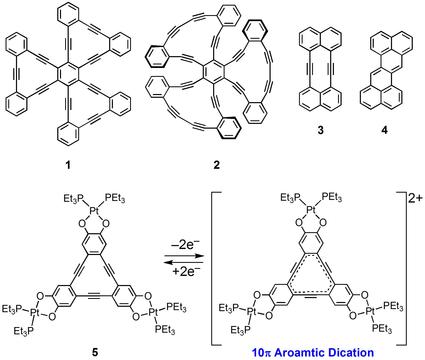 In order to exploit new substances with optoelectronic functions for prospective applications in future nanotechnology, we have been engaged in the synthesis and investigation of structurally novel π-electron conjugated compounds in which the size of the molecules reaches nanometer scale. In particular, we adhere to the creation of entirely new π-electron conjugated systems which have not been known. We therefore focus on the design and control of electronic states of two-dimensionally or three-dimensionally expanded conjugated systems consisting of sp- and sp2-hybridized carbons and their molecular shapes.
For instance, we synthesized trefoil-shaped molecule 1 consisting of three dehydrobenzo[12]annulene ([12]DBA) units, a substructure of hitherto unknown two-dimensional carbon network consisting of sp- and sp2-hybridized carbons, by exploring our original synthetic route. Due to efficient delocalization of π-electron in the planar framework, [12]DBA 1 shows a large two-photon adsorption cross section among hydrocarbons.
Compound 2 having three dehydrobenzo[14]annulenes ([14]DBAs) adopts a C3v symmetric, propeller-shaped nonplanar structure. Because compound 2 has a chiral propeller structure and relatively polar [14]DBA units, it is expected that compound 2 would show uni-directional rotation on a solid surface which can be controlled by external stimuli, an important function as a component of molecular scale motors.
Moreover, dehydronaphtho[10]annulene 3 was synthesized for the first time by our original synthetic method. We revealed that the transannular bond-forming reaction of 3 afforded derivatives of zethrene 4. Theoretical study predicts that zethrene possesses a singlet diradical character and exhibits large non-linear optical properties.
In addition, by incorporating of redox active metal catecholate units to the [12]DBA core, we established a novel and efficient method for oxidation of [12]DBA core. We revealed newly synthesized trinuclear platinum complex 5 was easily oxidized by both electrochemical and chemical methods, forming the corresponding stable dication which exhibited aromaticity due to the10π-electron conjugation.