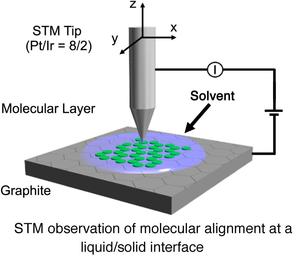 Recently, construction of two-dimensional (2D) molecular networks (or 2D crystals) on solid surfaces based on molecular self-assembly is a subject of intense interest because of the perspective for potential application in the field of nanoscience and nanotechnology. This technology would lead to the development of efficient and effective methods for surface patterning with a few nanometer-scale precisions. These 2D molecular networks are typically observed by means of scanning tunneling microscopy (STM) both under ultra high vacuum conditions and at liquid/solid interfaces (Right Figure).
We have been engaging in the control of molecular alignment formed at the liquid/solid interface based on precisely designed organic molecules in which its self-assembling behaviors on surfaces are carefully programmed. To achieve precise control of molecular alignment and function on surfaces, high skills and deep knowledge in modern organic synthesis which allows creating designed molecular building blocks are necessary. Moreover, skills in STM manipulation are also required for successful and quick implementation of this research. By combining both technologies, we have been performing pioneering works in this area.
For example, decyl substituted triangular dehydrobenzo[12]annulene (DBA) 6a shows a honeycomb structure on a surface (Bottom Figure a), whereas rhombic-shaped fused DBA 7a with the same substituents displays a first Kagomé structure (Bottom Figure b). The 2D structural difference is arisen from the different core shape. Another intriguing feature of these networks is their intermolecular connectivity made of "alkyl chain interdigitation". Triangular DBA with longer alkyl chains such as octadecyl group favorably form a non-porous linear pattern owing to its strong adsorbability. However, we found that the linear structure of the DBA transforms to a porous honeycomb structure upon dilution. This research presents the first demonstration of solute concentration dependency of the 2D network structure and thus becomes a general guideline for control of self-assembly at the liquid/solid interface.
To develop more complex and sophisticated 2D networks consisting of multiple components, we observed the formation of a three-component 2D crystal, which represents the world's second example of such structure. Namely,
a heteromoelcular cluster consisting of coronene 8 and six molecules of isopthalic acid 9 adsorbs in the pore of the honeycomb network of DBA 6b. Furthermore, we succeeded in the construction of four-component structure for the first time using the Kagomé structure of rhombic bisDBA 7b following the same strategy (Bottom Figure c). A heteromolecular cluster of 8 and 9 and triphenylene 10 were adsorbed at the large hexagonal pore and small triangular pore of the Kagomé structure, respectively. Central to the construction of such multi-component networks are the combination of two intermolecular interactions (van der Waals and hydrogen bonding interactions) and size and shape complementarities between the guest molecule as well as the guest cluster and the respective pores.